Podcast: Play in new window | Download (Duration: 13:45 — 18.9MB)
Subscribe: Apple Podcasts | Google Podcasts | Android | Email | RSS
Bridging divides — and loving as Jesus loved — amid this era of conflict, in the church and in the culture:
"Strive actively for peace"
Conflict over presidential politics and pandemic precautions revealed the substantial divisions between Christians that we live with today. "The divisions that we're seeing in the American church—the conversations—are not different than the ones that are happening in the world. Every institution is going through this," says pastor and author Daniel Darling. "But as Christians we have an opportunity to model something different. That Jesus said that the world would know that we are His by the way we love each other."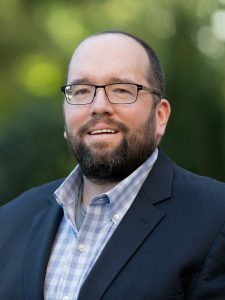 Darling writes about which things should divide us — and which things should not — in his new book Agents of Grace.  
"I think part of that is understanding the things that we need to contend for, right?" he asks. "Paul says to Timothy 'fight the good fight.' And then there are other things that are important but not ultimate, right? He also tells Timothy, later in 2 Timothy, to avoid stupid and foolish questions." We should be able to live in unity with believers who differ with us on the less important choices that are part of living as a Christian. If there's going to be division, it should only be to defend what's essential to the Gospel.   
"I think we have that upside down a little bit," Darling says, "and we've succumbed to the sort of divisiveness of the spirit of the age." 
So how do we learn to bridge divides and love as Jesus loved? One way, Darling suggests, is to choose not to assume bad motives on the part of believers we disagree with. Another way is to faithfully hold on to our friends, even when we disagree with them.  "These are hard and tumultuous times, and the more that we hang on to our friendships, the more that we love our brothers and sisters, the more we can do together. I think the Enemy—Satan—really wants to divide Christians and get us distracted so that we can't fulfill the mission of God," Darling says. 
That said, Darling sees many reasons to hold onto hope for the Church.  "God is active and alive today. We should ask ourselves, 'What is God up to? What is God doing? What is He about to do in the world? And how do we join Him?'"