Podcast: Play in new window | Download (Duration: 16:39 — 22.9MB)
Subscribe: Apple Podcasts | Google Podcasts | Android | Email | RSS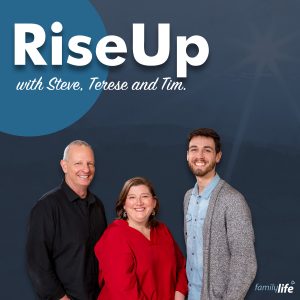 Yes, radio hosts are moved by the music that plays on air, too!  Steve, Terese and Tim share how some of the songs that they play for work have made an impact in their personal lives as well.
Then: "How are you" isn't cutting it.  What phrase works better for conversations?
Rise Up is a morning radio show hosted by Steve, Terese & Tim, on Family Life, a network of stations across New York and Pennsylvania. Our podcast is a weekly conversation that will help you think and grow in your faith. If you haven't already, subscribe today, so you don't miss a single episode! Listen online and find out more about our show at familylife.org.