Podcast: Play in new window | Download (Duration: 38:07 — 52.4MB)
Subscribe: Apple Podcasts | Google Podcasts | Android | Email | RSS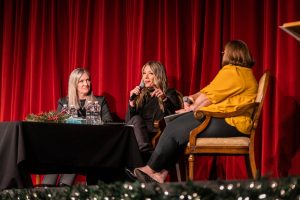 God never promises an easy life. In fact, the Bible tells us we will have trouble. And so often, those trials lead us right into the arms of Jesus. For the Kelly family, their second born, Hunter represented so much promise. The son of Hall of Fame Buffalo Bills quarterback Jim Kelly, Hunter was born with the expectation of football games in the yard and hunting trips with his dad. But Hunter would never speak a word or throw a perfect spiral. His life, though short, was profound. Hunter's mother, Jill Kelly, and his sister, Erin Kelly Bean, recently joined us for the Family Life Christmas Ladies Luncheon. I hope you find our conversation overflowing with hope, in the midst of trials.
Find out more about the Kelly Family at Hunter's Hope. And look for The Light Your Heart With Hope podcast on Apple Podcasts or whatever platform you listen on. Jill's book, Without A Word tells the story of Hunter's life and how God moved in their family. She has also written several books and devotionals on grief and hope. Erin is the author of Kelly Tough, a book about her relationship with her dad.
Terese Main is a wife, mom and flawed human. Above all, she loves Jesus. She co-hosts Family Life Mornings, which can be heard on radio stations across New York and Pennsylvania, and at www.familylife.org. She is a native of the Finger Lakes Region and a graduate of Ithaca College. It's her heart's desire to encourage others to live their lives fully in God's blessing.