Podcast: Play in new window | Download (Duration: 7:18 — 10.0MB)
Subscribe: Apple Podcasts | Google Podcasts | Android | Email | RSS
The essential message of Christmas—deeper than the sparkle and lights—
is the very hope that can sustain us in a broken and often painful world.
The Christmas trees went to the curb—or into their boxes–weeks ago. So is there any reason to think about Christmas now?  Ben Mandrell, president and CEO of Lifeway Christian Resources, would say there is.  
"What I've found in just being a pastor over the years is that Christmas stirs up a lot of emotions that then have to be processed into January and February, particularly if you've had great los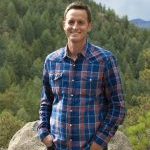 s," he said.  
We have good reasons to celebrate Christmas. But God did not eliminate suffering and grief all those years ago in that cattle stall. Part of the joy of Christmas is that the essential message—deeper than the sparkle and lights—is that God, who wrapped Himself in flesh in Bethlehem, provides the hope we need to face the pain in our daily lives.  
"I think what I love about Christmas," Mandrell said, "is it gives us hope that this broken and dark planet that we live on will not always be in this condition. That He has shown us through a real, historical event that God is not only there, but He is here to redeem and save and rescue us from the pain that we experience."

 What can complicate the weeks after Christmas is that many who are working through their holiday sadness are now also negotiating the often-gloomy weather of January and February. "Whether I like to admit it or not, it's during these months that I feel most weak," Mandrell said. "And also where I need His strength." And that dependence on God's strength, Mandrell acknowledges, brings us back all these weeks later to One who wrapped up hope as the gift of Christmas.  "As much as we love the ornaments and festivities of Christmas and all the external things that give us cheer, those things are temporary. And they're not a safe place for us to put our foundation," he said.  
Read Ben Mandrell's article that inspired this conversation here.