Podcast: Play in new window | Download (Duration: 18:26 — 25.3MB)
Subscribe: Apple Podcasts | Google Podcasts | Android | Email | RSS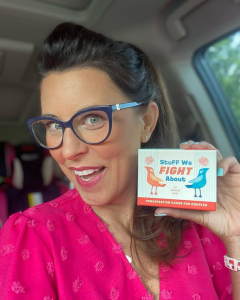 Do you sometimes feel like you and your spouse aren't on the same page? You need to talk it out. Jeniffer Dake is a Christian speaker and author who has taken almost three decades of experience and turned it into conversation starters for couples. It's called "Stuff We Fight About," and includes questions like this:
Day to Day: What are your usual routines when waking up and getting ready for bed?
Pet Peeves: How do you squeeze the toothpaste onto your toothbrush?
Big Ones: How was money talked about in your home as a kid?
Holidays: What is a family tradition that makes you feel the Christmas spirit?
The Future: What do you want to accomplish in the next five years, both personally and as a couple?
Find out more about Jeniffer
here
.
Terese Main is a wife, mom and flawed human. Above all, she loves Jesus. She co-hosts Family Life Mornings, which can be heard on radio stations across New York and Pennsylvania, and at www.familylife.org. She is a native of the Finger Lakes Region and a graduate of Ithaca College. It's her heart's desire to encourage others to live their lives fully in God's blessing.