Podcast: Play in new window | Download (Duration: 5:42 — 7.8MB)
Subscribe: Apple Podcasts | Google Podcasts | Android | Email | RSS
Family Life's "Hometown Heroes"
This week's Hometown Heroes continues our conversation with Buffalo Pastor Eric Johns.
This will be his 25th and final year of living on the streets for a full week, getting the experience of homelessness first-hand. As he prepares to retire, his sons will follow in his footsteps. There are other ministry colleagues, young people influenced by the Buffalo Dream Center's inner city ministries, and other church members who are now motivated by his example.
Hear more about how the Lord has used and expanded such outward-focused work here in Part 2 of our "Hometown Heroes" feature.
Part 1 of this conversation is also easy to find here on our News Podcasts page.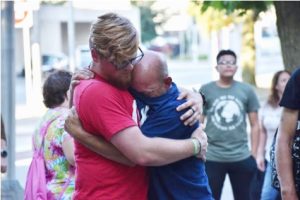 "Hometown Heroes" happens during the Family Life Noon report most Tuesdays, online and on the air. Your host is Family Life news anchor Mark Webster.