Podcast: Play in new window | Download (Duration: 9:06 — 12.5MB)
Subscribe: Apple Podcasts | Google Podcasts | Android | Email | RSS
Learning to negotiate anger is key if we're going to have good relationships.      
Dr. Josh Straub and his wife Christy Straub want to help children learn that early. The Straubs are family and leadership coaches who head up the organization Famous at Home, and their newest book for children is What Do I Do with Anger? 
"I think it's our God-given emotion that helps protect us from something that could potentially harm us," says Josh Straub, my guest on this Inside Out podcast. 
Though it's God-given, it's important to know that anger is a secondary emotion, Straub points out. There's always something behind it. If recognizing that we're angry is going to be beneficial, we need to look for what's fueling it. 
"If you think about what's in the seat behind, driving the bus, it's another emotion," he says. 
It's important to teach children to go looking for what that is. To help them, the Straubs use a repeated phrase in the book: "Anger can show you what's deep in your heart. Naming that feeling can bring a fresh start."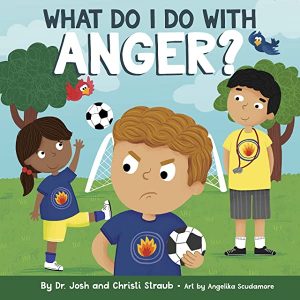 Listening, Straub says, will be key to discovering and naming that feeling. 
"James, chapter one, says to be 'quick to listen, slow to speak, and slow to become angry.' And then in verse 20 it says, 'because human anger does not accomplish God's righteousness,'" Straub says. "And I think it's so important for us not just to look at the verse to go, 'Hey, we have to listen to others,' but we also have to listen to what's going on with ourselves."  
It's a skill that will help children throughout their lives.    
"Feelings can teach us a lot about situations, so we know how to set boundaries and enter into healthy relationships, and then manage those relationships well," he says. 
Learn more about Dr. Josh Straub and Christy Straub and their books here.