Podcast: Play in new window | Download (Duration: 7:58 — 11.0MB)
Subscribe: Apple Podcasts | Google Podcasts | Android | Email | RSS
 Family Life's "Staycation Destinations" for Summer 2023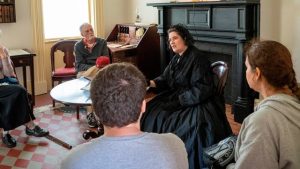 Tucked into the Finger Lakes region of New York is the Women's Rights National Historical Park. It's so appropriate that this launching point of a major movement in American culture is this week's "Staycation Destination", because this week is the 175th anniversary which made Seneca Falls a historic site.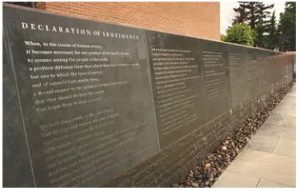 On July 19-20, 1848, more than 300 people gathered at the Wesleyan Methodist Chapel for a first-of-its-kind Women's Rights Convention. The event resulted in a "Declaration of Sentiments", a document which paralleled the Declaration of Independence of 72 years earlier and which now is recognized as the founding statement of the women's rights movement which eventually would spread through the nation and the world. The declaration was signed by 100 women and men.

Park Ranger Rebecca Weaver gives us the inspiring stories of that Convention which predates the Civil War, details of the 175th anniversary celebration there and throughout the Seneca Falls community (July 21-23, 2023), and an inviting glimpse into what the Park offers for its visitors year-round.
During scheduled programs, reenactors portray Elizabeth Cady Stanton, Lucretia Mott and other leaders of the movement. As part of the National Park Service, the Women's Rights Park charges no admission fees, and it is open 362 days a year.
Seneca Falls is in the Finger Lakes region, near a midpoint between Syracuse and Rochester.
– – – –
This week's Side Trip Suggestion: 
Sculptures made of old metal highway signs.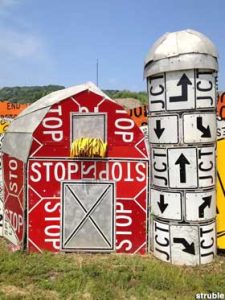 Go a mile or so east of the Meadville exit off I-79 in western Pennsylvania, and you will see a wide-ranging quarter mile of unique art. Sculptures and panoramas at the PENNDOT facility along the north side of Highway 322 have been made from out-of-service reflective metal road signs. See if you (and your travel companions) can find anything from hot air balloons, to a Ferris Wheel, to a singing cowboy, to 3-D flower gardens. (Park at a safe place nearby, and walk along the display called "Read Between the Signs".)
[New this summer, each of our "Staycation Destinations" podcast posts will also describe one additional tourist site in the Family Life listening area. It could be a quirky attraction, a new activity, or something else that you may discover is worth seeking out.]