Podcast: Play in new window | Download (Duration: 9:37 — 13.2MB)
Subscribe: Apple Podcasts | Google Podcasts | Android | Email | RSS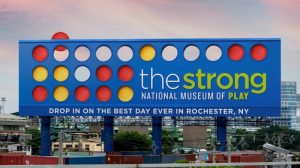 "Staycation Destinations" on Family Life
The Strong Museum of Play opened a generation ago (in 1982) and unites multiple generations with the delights– and the necessity! — of play. Rochester native Margaret Woodbury Strong (starting in her childhood) became a prolific collector of dolls, toys and many other household items. Her legacy now brings hundreds of thousands of guests to the Museum of Play, where people of all ages can see and interact with games, electronics, and playthings from across the decades.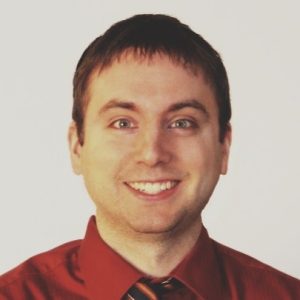 This summer marked the opening of a major expansion of The Strong, with 90 thousand new square feet, expanding exhibit space and a welcome area, plus a new outdoor interactive play area. Shane Rhinewald gives us details about what is new. He also describes the history and development of the museum, offers suggestions of what do see, and tells about diverse range of guests. He also talks about why play is so important, plus how strongly people hold memories of their games and toys.
[ Greg Gillispie closes out this feature with a preview — and your invitation — for one last half-hour journey of the summer. On Labor Day, Family Life relieves many of our radio road trips from our summer Fridays. We will give you highlights from our 2023 Staycation Destinations, plus add in one brand new stop you haven't heard yet. Join us for our Labor Day Staycation Special, online and on the air, Monday September 4 at 12 Noon. ]
–  –  –  –
Side Trip Suggestion: The "Smallest Church in New York" … and quite possibly the World

Each weekend, we also add a note and a picture from another unique spot in the Family Life Listening area, for you to know about — and perhaps decide to visit.
It doesn't matter which search engine you use, it won't take long until the Internet tells you that dozens of various U.S. states claim to host "the smallest church building in the world". However, one in Oneida, New York, might be more diminutive that a lot of others that advertise itself as such.Plus the World Record Academy does give this one the official status as "the world's smallest (non-denominational) church."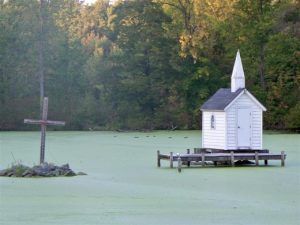 In addition to its comparative size Cross Island Chapel has a lot of uniqueness going for it. It sits on a platform in the middle of the lake. Even with only two seats, the chapel is put to use as a holy space fairly frequently. With internal dimensions of 51 inches by 81 inches, there is room for a groom and a bride and a clergyperson. If this ever becomes your "destination wedding" setting, your friends can join you there. They may have to watch and listen from a collection of boats floating outside.