An allegation of misconduct can veer a ministry into a stressful season. If a congregation discover news that sexual harassment or abuse of a child or teen may have happened, what should the leaders do first — and next.
Theresa Sidebotham is a Christian attorney and consultant who assists churches and businesses which must deal properly with such allegations. In addition to staying within the legal and organizational mandates, Sidebotham tells Family Life News that such occasions, whether the allegation turns out to be true or not, give Christian leaders the unique opportunity to demonstrate God's redemptive power, as they seek the righteous approach to care for people.
During this week's Faith Under Fire, Sidebotham also shares what she sees as good news — that the incidents of abuse within Christian ministries are somewhat less frequent, as public awareness has increased.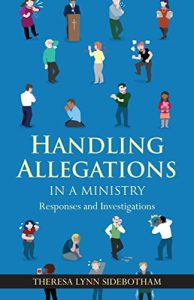 Obviously, prevention is important, and congregations and denominations do well to have workable policies and adequate screening of staff, clergy and volunteers.
She also is author of a guide for church leaders on dealing with allegations of misconduct, Handling Allegations in a Ministry.