Podcast: Play in new window | Download (Duration: 6:15 — 8.6MB)
Subscribe: Apple Podcasts | Google Podcasts | Android | Email | RSS
How does Christ's Good News intersect when Bad News happens … in the nation, in the world, in a community, in the lives of individuals and families and congregations?
A unique perspective today, from an elected government official who spoke words of compassion and honesty and hope, following a tragedy on Easter Monday 2023.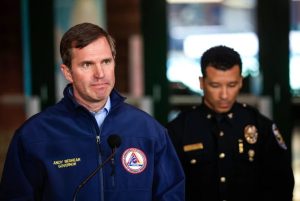 A shooter entered a bank in the heart of Louisville, Kentucky, causing death and injuries and fear, shooting 13 people. At a news conference just a few hours later, Kentucky Governor Andy Beshear spoke plainly and boldly about the message of Easter and his own Christian faith.
Family Life's Greg Gillispie narrates this timely Special Feature.