Podcast: Play in new window | Download (Duration: 5:15 — 7.2MB)
Subscribe: Apple Podcasts | Google Podcasts | Android | Email | RSS
An New York-based nurse received a prestigious national award for his attention care of patients' emotional needs, while they were hospitalized to care for their physical needs during the Covid-19 lockdowns.
Patrick Perl, RN, was honored as National Front Line Clinical Nurse of the Year by Press Ganey, a national provider of services to the healthcare industry. The judging panel unanimously chose Perl for the award among all the nominees from across the country. He is a Cardiovascular Clinical Nurse Specialist at Elmira's Arnot Ogden Medical Center.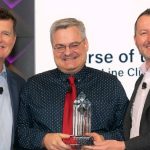 Patrick was nominated by Arnot Ogden's managers for his commitment to care innovation, transformation, and collaboration. The nurse led the "Share the Light – Shine the Light" program, an initiative to decorate the rooms of COVID patients with holiday lights, providing warmth and beauty in otherwise isolating spaces. The community rallied together, donating hundreds and hundreds of strands of lights, all attached with thank you cards for staff. In his own words, the goal of this initiative was to "band together and show our community hospital, our healthcare workers, and our patients that we care."
He tells Family Life the story of his simple idea that spread from one hospital window — across the facility and into the Elmira community. Listen to this week's edition of our "Hometown Heroes" feature.