Podcast: Play in new window | Download (Duration: 5:57 — 13.6MB)
Subscribe: Apple Podcasts | Google Podcasts | Android | Email | RSS

Comedian Jeff Allen has been honing his craft on the stand-up comedy circuit, on television, and in corporate and faith-based settings.
He works to keep his funny business "clean", but in this exclusive Family Life interview, Allen acknowledges his life was messy, prior to his conversion to be a follower of Jesus Christ.
In this feature, he tells our Mark Webster about his Chicago upbriging, the work of creating comedy, and how faith reshaped his life.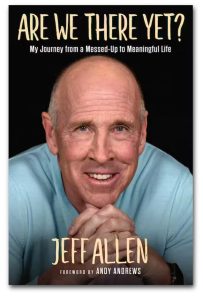 Click this link for a video of some of Jeff's comedy highlights.
(He is credited with coining the phrase "Happy wife…Happy life.")
Our conversation with Jeff Allen aired across three consecutive Tuesdays during the Family Life Noon Report, on our live stream and on the radio.
Hear the full Family Life Interview with Jeff Allen:
From the News Podcasts page, you can listen, download, share or subscribe to any of your favorite Family Life features, podcasts, the Noon Report, and the 5 O'Clock Report.