Podcast: Play in new window | Download (Duration: 5:11 — 7.1MB)
Subscribe: Apple Podcasts | Google Podcasts | Android | Email | RSS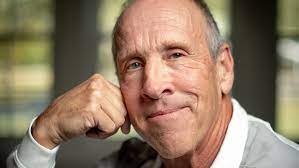 Comedian Jeff Allen's comedy videos have amassed 400 million views online. The humor on stage was accompanied by desperation and a search for meaning and value in the rest of his life.
In this second segment of our conversation, the 40-year veteran performer tells of the sadness and desperation which led to his Christian conversion.
Here are some of Jeff's comedy highlights: 
Listen for more from Jeff Allen this coming Tuesday, September 5, during the Family Life Noon Report, on our live stream and on the radio.
The full conversation with Family Life's Mark Webster is here for listening, downloading or sharing.
Hear the full Family Life Interview with Jeff Allen:
From our News Podcasts page, you can listen, download, share or subscribe to any of your favorite Family Life features, podcasts, the Noon Report, and the 5 O'Clock Report.